Greentest - Portable Food & Environmental Tester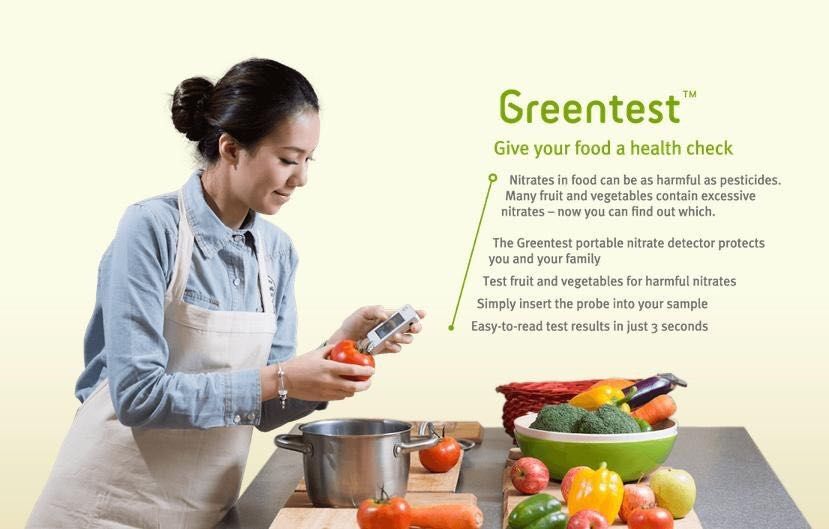 GREENTEST - YOUR PORTABLE NITRATE, WATER & RADIATION DETECTOR.
This original portal device works for fruit, vegetables and meat. Developed using the latest nitrate testing technology, the innovative Greentest allow you to quickly and accurately determine the quality of over 60 of the most commonly consumed fruits and vegetables as well as all types of meat. In just 3 seconds, Greentest will tell you the nitrate level of your fruits, vegetables and meat whether it is safe for consumption.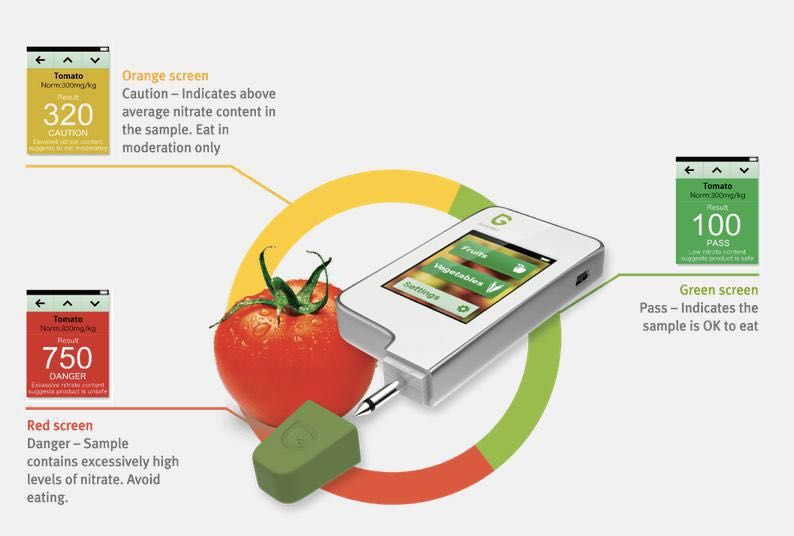 DESCRIPTION
Portable, compact and lightweight
The compact and lightweight device is small enough to fit into your pocket or easily carried in your bag to take with you wherever you go.

Friendly & easy to use interface
The device's high-resolution colour display provides an easy to use interface for our unique and intuitive nitrate testing software, allowing you to quickly view the quality and safety of your fruit, vegetables and meat.

Fast and accurate results
Display your nitrate test results in just 3 seconds with less than 10% margin of error.

Single test probe
The probe can be easily inserted into fruit and vegetables to test for nitrate levels while causing the least damage to your food.

Long battery life
The rechargeable Li-ion 720mAh battery provides up to 20 hours of usage time and can be easily recharged using the USB charger provided with the device.

Modern design
Available in a clean white casing, providing a look that is not only modern and professional but also practical for everyday use.
HOW IT WORKS?
Lower resistance = Higher nitrate content
The presence of nitrate ions in organic matter measurably increases conductivity. This measurement differs according to the ion concentration and cell structure of the fruit or vegetable under test.

Calibrated through extensive testing
By using a mass spectrometer, Greentest is able to determine the nitrate levels in a large number of fruits, vegetable and meat. Testing a range of specimens allowed us to establish normative levels for various fruits, vegetables and meat.

High degree of accuracy
The results were applied to test algorithms which have been coded into the Greentest device. The device has been extensively back-checked against specimens that were subsequently tested with mass spectrometer.
SPECIFICATIONS

Nitrate measurement range




0 - 9999mg/kg

Measurement margin of error




<10%

Dimensions




122 x 52 x 144

Weight




85g

TFT colour display resolution




320 x 240




Power source



720mAh Li-ion battery; Additional power source:
USB to mains power charger, USB charge current: 310mA
Power voltage range: 5V

Usage time




Up to 20 hours (using fully charged 720 mAh Li-ion battery on the default device settings)

Operating temperature




0 - + 60 °С